WELCOME TO SHARED SPACE LA
A free, modern meeting space for the nonprofit community
LOCATION + NUMBER
700 South Flower Street, Suite 1950
Los Angeles, CA 90017
213.688.6322
parking
The self-parking entrance is accessible via Flower Street between 7th and 8th sctreets. Follow signs to Self-Park and take the one-way helix up. Pull a ticket, park, and head to the elevators. Select "P" for Plaza Level and you will exit onto The Bloc retail stores. Follow signs to 700 S. Flower Office.
arriving by metro
Board the Red, Purple, A or E line and get off on 7th Street and Metro Center. See Metro maps and schedules for more information.
check-in
Upon arrival, please check-in with building security located in the lobby. Security will send you to the 19th floor. Once you exit the elevator, you will see directions pointing to the floor lobby. Head towards the Shared Space LA and check-in with our Shared Space Office Manager.
Find out about the various catering and technology set-up needs we have to offer in our extensive space here.
CATERING
Our approved catering list features catering from the following vendors. If you would like to request vendors outside of this list, please contact the Shared Space Manager (info@sharedspacela.org).
EQUIPMENT
Our conference rooms are equipped with complimentary Wi-Fi service with a speed of up to 100 Mbps . If noted on your reservation form, we can support conference calling, Zoom meetings and the viewing of any Microsoft product. A clicker for presentations and flipcharts with markers can be made available upon request.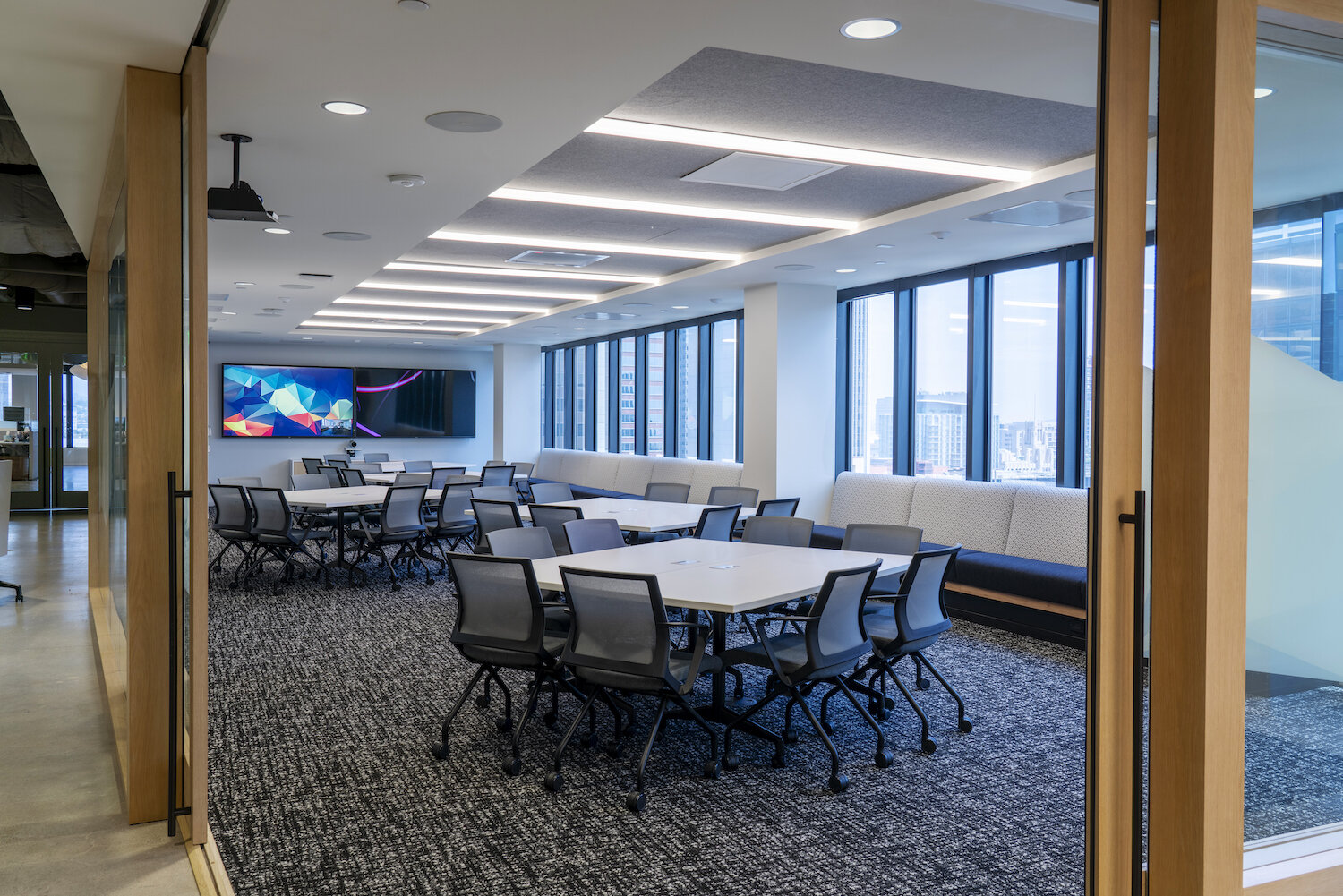 Shared Space LA offers a variety of room setup options to fit the needs of your meeting. When you fill out a reservation request, please indicate which room setup you will need. You can view options below.
Shared Space LA is available for use by non-profit organizations and other community groups whose work is aligned with the missions of The James Irvine Foundation (JIF) and/or Weingart Foundation (WF), collectively the "Foundations." Shared Space LA is intended to host convenings that advance issues important to one or both foundations.
Shared Space LA is available for:
Training

Workshops

Meetings

Lectures
Shared Space LA is not available for:
Commercial Purposes

Religious Ceremonies

Personal or Family Events

Activities that generate profit or charge an admission fee
Reservations
Want to book the space? Take a look at the availability calendar and fill out the reservation form online. Before you book, make sure you have read over both the eligibility guidelines and available room set-up options here.